OIL PAINTINGS WITH FRAMES

To view an enlarged version of each picture with captions that includes the title, medium, size and price just click or tap on each picture. In addition the pictures can be seen sequentially by scrolling sideways or clicking on the next or previous tabs in the upper corners of each picture. I have also indicated whether Giclee prints are available in the captions that comes with each picture.

OIL PAINTINGS WITHOUT FRAMES

Wrap Around Canvas Pictures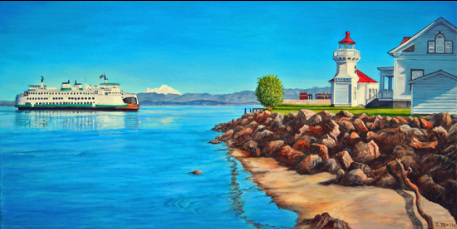 FERRY COMING IN AT MUKILTEO, WA, Oil on wrap around canvas, 15" by 30", $450.
The pictures in this section have canvas that is wrapped around the edges and the edges are painted with the continuing scene. It is fun to watch the scene unfold as you look into the picture from the sides.

---
All pictures are copyrighted by Judy Moritz and are not eligible for reproduction by anyone else.